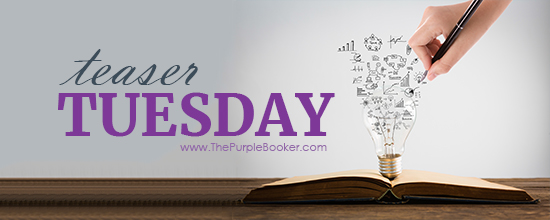 Welcome to Teaser Tuesday, the weekly Meme that wants you to add books to your TBR! You can also just share what you are currently reading. We make it very easy to play along, it is as easy as 1, 2, 3!
1: Grab your current read
2: Open to a random page
3: Share two (2) "teaser" sentences from somewhere on that page
• BE CAREFUL NOT TO INCLUDE SPOILERS! (make sure that what you share doesn't give too much away! You don't want to ruin the book for others!)
• Share the title & author, too, so that other TT participants can add the book to their TBR Lists if they like your teasers! Everyone loves Teaser Tuesday.
Happy Teaser Tuesday everyone! As always I hope I find you well this Tuesday and enjoying your reads! I am glad to be back home after some rover sitting end of last week and over the weekend. The poor owners flight was canceled so I had to stay an extra day. She was grateful I could. I know how stressful travel stuff like that can be so I tried to make one thing less stressful. This week I moved onto the second dune book because I had to, I guess I am on a role, lol.
Onto the teaser….
"Empires do not suffer emptiness of purpose at the time of their creation. It is when they have become established that aims are lost and replaced by vague ritual.

-Words of Muad'dib by Princess Irulan."

― Dune Messiah by Frank Herbert