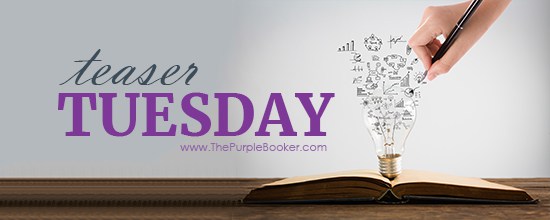 Welcome to Teaser Tuesday, the weekly Meme that wants you to add books to your TBR! You can also just share what you are currently reading. We make it very easy to play along, it is as easy as 1, 2, 3!
1: Grab your current read 2: Open to a random page
3: Share two (2) "teaser" sentences from somewhere on that page
• BE CAREFUL NOT TO INCLUDE SPOILERS! (make sure that what you share doesn't give too much away! You don't want to ruin the book for others!)
• Share the title & author, too, so that other TT participants can add the book to their TBR Lists if they like your teasers! Everyone loves Teaser Tuesday.
Happy Teaser Tuesday everyone! As always I hope I find you well this Tuesday and enjoying your reads. Happy Halloween! My favorite holiday, I am so excited. Been dressing up for the last several days while working. Sorry I missed last week, had some fibro fog and I was on a housesit so my schedule and routine got all wonky. Back to normal this week though.
This weeks Teaser..
"Elayne", she said softly as they resumed their climb, "if we are caught, I swear that before they kill us, or do whatever they do, I will beg them on bended knees to let me stripe you from top to bottom with the stoutest switch I can find!"
― Robert Jordan, The Great Hunt