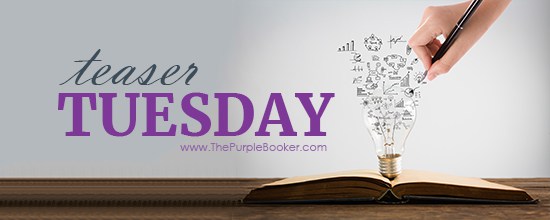 Welcome to Teaser Tuesday, the weekly Meme that wants you to add books to your TBR! You can also just share what you are currently reading. We make it very easy to play along, it is as easy as 1, 2, 3!
1: Grab your current read 2: Open to a random page
3: Share two (2) "teaser" sentences from somewhere on that page
• BE CAREFUL NOT TO INCLUDE SPOILERS! (make sure that what you share doesn't give too much away! You don't want to ruin the book for others!)
• Share the title & author, too, so that other TT participants can add the book to their TBR Lists if they like your teasers! Everyone loves Teaser Tuesday.
Happy Teaser Tuesday everyone! As always I hope I find you well this Tuesday and enjoying your reads. Thanks for all the support last week. I got my car back! I am so happy to have him back. He looks good too! Yay! Also the showing went well. Still stressful but the people were nice and even said hi to my dogs when I was moving them from my room. I am used to people being nervous about them so it was nice for them to be welcoming.
This weeks Teaser..
"Her former life of the brilliant textiles, vibrant patterns and vivid colors of the palace would be replaced with the less radiant but warmer tones and hues of her new home. Where the palace was eye-catching and flamboyant, the Temple of Danray was warm and homey, bursting with the muted colors of the earth. The training fields were weather-beaten and rich, and the buildings full of coppers, bronzes and golds. She noted that the Danrayen warriors and trainees all wore outfits in hues of fawn, mushroom, sage, and nut-brown that helped them blend in with their surroundings, and she was glad for the new wardrobe that helped her to look like she belonged, regardless of how scratchy and stiff she might find the fabric."
― The Name-Bearer (Flowers of Prophecy #1) by Natalia Hernandez