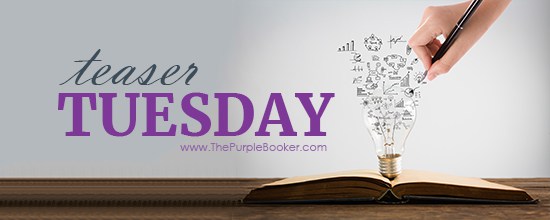 Welcome to Teaser Tuesday, the weekly Meme that wants you to add books to your TBR! You can also just share what you are currently reading. We make it very easy to play along, it is as easy as 1, 2, 3!
1: Grab your current read 2: Open to a random page
3: Share two (2) "teaser" sentences from somewhere on that page
• BE CAREFUL NOT TO INCLUDE SPOILERS! (make sure that what you share doesn't give too much away! You don't want to ruin the book for others!)
• Share the title & author, too, so that other TT participants can add the book to their TBR Lists if they like your teasers! Everyone loves Teaser Tuesday.
Happy Teaser Tuesday everyone! As always I hope I find you well this Tuesday and enjoying your reads. Sorry I missed last week. It got hectic again. I still don't have my car back, that has been stressful. Hopefully I get it back this week.  To top it off our rental management "forgot" to tell us they had a showing (current owners looking to sell) and just showed up on Monday. Thankfully I was still home, or they would have surprised the heck out of the dogs. Told them anymore surprise visits I won't allow them entry. I know the laws. I let them in that time but won't again. They did email me about a showing this week. So hopefully it sunk in. Anyways…
This weeks Teaser..
"Damika was undeterred, as were the other girls, all determined to make a warrior of her yet. But more so, and somehow just as importantly, Damika and the others did not just teach her how to better swing a blade, dodge a weapon, or block a blow. They also taught her the simple and quiet luxuries of friendship."
― The Name-Bearer (Flowers of Prophecy #1) by Natalia Hernandez