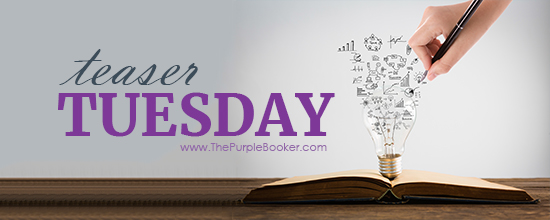 Welcome to Teaser Tuesday, the weekly Meme that wants you to add books to your TBR! You can also just share what you are currently reading. We make it very easy to play along, it is as easy as 1, 2, 3!
1: Grab your current read
2: Open to a random page
3: Share two (2) "teaser" sentences from somewhere on that page
• BE CAREFUL NOT TO INCLUDE SPOILERS! (make sure that what you share doesn't give too much away! You don't want to ruin the book for others!)
• Share the title & author, too, so that other TT participants can add the book to their TBR Lists if they like your teasers! Everyone loves Teaser Tuesday.
Happy Teaser Tuesday everyone! As always I hope I find you well this Tuesday and enjoying your reads! Busy busy busy again this week. Rover is keeping me on my toes, but I am not mad about it. I enjoy being busy. There was so long where I couldn't be busy because of my fibro. I can say now it has been 6 months since my last major flare up. I have had minor ones here and there but I am pretty happy to just deal with a minor flare instead of a major one. It's a nice feeling.
Now onto this week's teaser. This is a re-read for me because it is October and I wanted to revisit an old favorite.
"I snuck a look to see how Eric was taking this, and he was staring at me the same way the Monroe vampires had. Thoughtful. Hungry.
"That's interesting," he said. "I had a psychic once. It was incredible."
"Did the psychic think so?"

― Dead Until Dark by Charlaine Harris