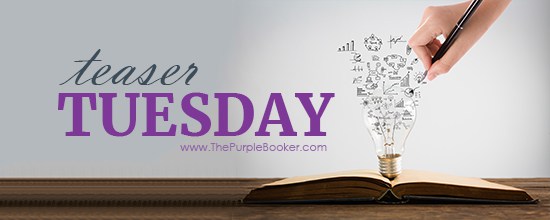 Welcome to Teaser Tuesday, the weekly Meme that wants you to add books to your TBR! You can also just share what you are currently reading. We make it very easy to play along, it is as easy as 1, 2, 3!
1: Grab your current read 2: Open to a random page
3: Share two (2) "teaser" sentences from somewhere on that page
• BE CAREFUL NOT TO INCLUDE SPOILERS! (make sure that what you share doesn't give too much away! You don't want to ruin the book for others!)
• Share the title & author, too, so that other TT participants can add the book to their TBR Lists if they like your teasers! Everyone loves Teaser Tuesday.
Happy Teaser Tuesday everyone! As always I hope I find you well this Tuesday and enjoying your reads. Sorry I missed last week. It was a busy Monday and I totally forgot to get the post ready. Alas my old car was written off as a total loss by insurance. However, I made some lemonade from that Giant Lemon. My new to me car is a 2017 Kia Soul EV. I love it. I love not having to put gas in it. I have only had it a week so far, but yeah I love it. His name is Thomas, from the Dresden files. LOL and I got a replica of the Dreamstone from Sandman for the mirror. I am a happy little nerd.
This weeks Teaser..
"The Heir and the Spare—there was no judgment about it, but also no ambiguity. I was the shadow, the support, the Plan B. I was brought into the world in case something happened to Willy. I was summoned to provide backup, distraction, diversion and, if necessary, a spare part. Kidney, perhaps. Blood transfusion. Speck of bone marrow. This was all made explicitly clear to me from the start of life's journey and regularly reinforced thereafter."
― Prince Harry, Spare