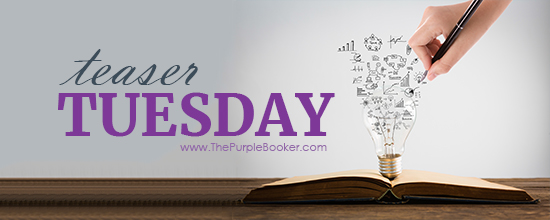 Welcome to Teaser Tuesday, the weekly Meme that wants you to add books to your TBR, or just share what you are currently reading. It is very easy to play along:
• Grab your current read
• Open to a random page
• Share two (2) "teaser" sentences from somewhere on that page
• BE CAREFUL NOT TO INCLUDE SPOILERS! (make sure that what you share doesn't give too much away! You don't want to ruin the book for others!)
• Share the title & author, too, so that other TT participants can add the book to their TBR Lists if they like your teasers! Everyone loves Teaser Tuesday.
Happy New Year!! I hope that everyone had a lovely New Year's Eve and that your New Year's Day will be fantastic one as well. Today is page 1 of 365.
I've been so busy prepping for a huge convention for my business that's coming up this weekend, I haven't even been able to decide what challenges I'll take part in this year. I might not do any besides the goodreads one, but I'll cross that bridge when I'm able to sit down and decide.
At any rate here we go 2019.
"Have a heart that never hardens, and a temper that never tires, and a touch that never hurts." Hard Times ~ Charles Dickens