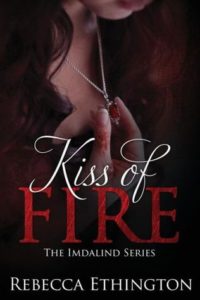 Joclyn Despain has been marred by a brand on her skin. She doesn't know why the mark appeared on her neck, but she doesn't want anyone to see it, including her best friend Ryland, who knows everything else about her. The scar is the reason she hides herself behind baggy clothes, and won't let the idea of kissing Ryland enter her mind, no matter how much she wants to.
The scar is the reason she is being hunted.
If only she knew that she was.
If only she had known that the cursed stone her estranged father sent for her 16th birthday would trigger a change in her. Now, she is being stalked by a tall blonde man, and is miraculously throwing her high school bully ten feet in the air.
Joclyn attempts to find some answers and the courage to follow her heart. When Ryland finds her scar; only he knows what it means, and who will kill her because of it.
I wanted to like this book, I wanted to be in love with this book. Sadly the feeling I ended up having when it came to Kiss of Fire was just kind of meh. It wasn't a bad book and all of the right things seemed to be there, a little mystery, some tension, two star crossed kids. Alas, something really just didn't come together for me.
One nag I had about it was Joclyn hiding her scar so much. A huge deal was made of the scar, and without giving anything of the story away I get that. However, for me it is stretching a little to far to fathom that she managed to completely and successfully hide it for so long by wearing lots of hoodies. Hey, I enjoy hoodies too, but come on.
There was also a lot of Mary sue type situations and in the end, I really can't take too much Mary sue these days, so maybe that was what really ended up bothering me the most. I may be saying a lot of negative in this review, but overall the book was readable. It was not the best book of the year, but it wasn't the worst either. As I started with for me it was just a bit meh. That doesn't mean someone else won't enjoy it more than I did, because the potential is there. Toss in Ryland who suffered so much at the hands of his own Father and the book does give you some of those emotional punches that you need.
I might even give this series another try and check out the second book of the series. If the second book picks up the pace faster, it might bring me out of the Meh zone.
My Gemstone Rating: