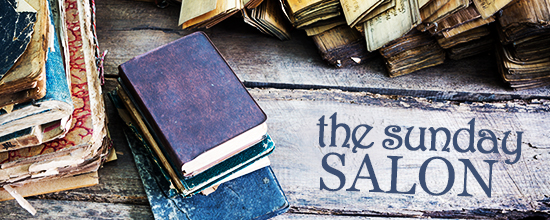 Here we are again on Sunday, the last Sunday in Feb it is hard to think that March is already nearly here! There has been so much going on this year for me already sometimes I am surprised when I look up and see what day it is. The good news is that in March we will be seeing Beauty and the Beast pop up in theaters. Very excited about it! I mean what book lover hasn't been a fan of Belle at one point or another?
I have not gotten as much reading done as I wanted to this week, but I am still having fidgeting issues so I hope that at some point I will be able to shake out of that. At any rate I am getting the itch that I often find myself getting every so often. What is that itch you ask? It is the undeniable itch to read a specific time period. Lately I have managed to find some balance in what I am reading. I have even really stayed pretty well into the modern stuff (hey for me that is an accomplishment lol) but I am straying out of that now. I am finding that it is time to dive into the Tudor court again.
The good news is that this is an era which is pretty popular and there are several very good authors who write within it. I mean when I get stuck in a mood to read oh say the Revolutionary war time frame I find there is not as much to choose from. That is changing as more authors seem to be wanting to write in that era but I digress. The problem I have come on in this instance is that I have so many books on hand to choose from I have no idea where to start.
So, friends any suggestions? LOL