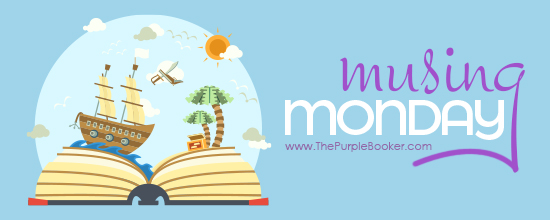 Musing Mondays is a weekly meme that asks you to choose one of the following prompts to answer:
I'm currently reading…
Up next I think I'll read…
I bought the following book(s) in the past week…
I'm super excited to tell you about (book/author/bookish-news)…
I'm really upset by (book/author/bookish-news)…
I can't wait to get a copy of…
I wish I could read ___, but…
I blogged about ____ this past week…
THIS WEEKS RANDOM QUESTION:Which ending of your favorite series did you truly enjoy but think the author ruined the ending?
OH there are several of these for me. If I had to pick just one, I would say it boils down to the Southern Vampire Mysteries i.e True Blood series. The show at least didn't make me hate the ending, the book series though well frankly I will never ever forgive the Author for it. Not only was the ending a complete hash, the "follow up" little novella made it worse. Like it was a half assed way to try and not only make more money but try and fix some of what fans were having a fit about.
So how about you?