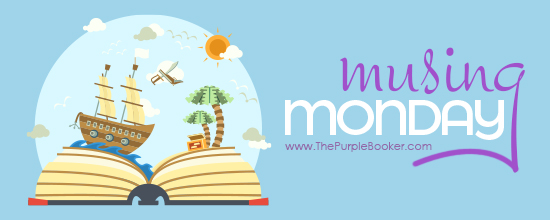 Musing Mondays is a weekly meme that asks you to choose one of the following prompts to answer:
I'm currently reading…
Up next I think I'll read…
I bought the following book(s) in the past week…
I'm super excited to tell you about (book/author/bookish-news)…
I'm really upset by (book/author/bookish-news)…
I can't wait to get a copy of…
I wish I could read ___, but…
I blogged about ____ this past week…
Welcome to July. Goodness where is the time going this year? It seems to be going by very fast!
Random Question: How do you feel about book of the month type clubs/groups?
I used to belong to some fantastic book groups when I lived in Minnesota. We didn't have books we read at the same time but we got together and talked about our reads and just enjoy time together. Really I find myself missing that rather a lot. I have not been able to find a group like that since moving from Minnesota and I wish I could. I tried a monthly book club locally to where I am now but I just found that I didn't really fit with that. I like to read what I want to read and well most of the books being read by that group were not ones I really enjoy. Not one historical in the bunch! Gah! And they were not willing to listen to the new girls thoughts on changing it up a little. So in the end I stopped going, fair enough not every group is for every person. But I do miss getting together with like minded people, friends and having a nice chat about books and just life and everything else. How about you?