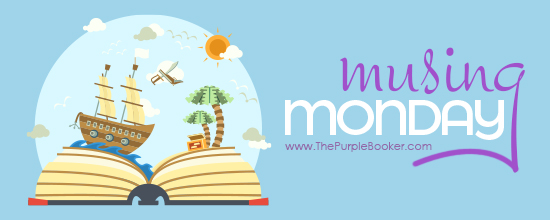 Musing Mondays is a weekly meme that asks you to choose one of the following prompts to answer:
I'm currently reading…
Up next I think I'll read…
I bought the following book(s) in the past week…
I'm super excited to tell you about (book/author/bookish-news)…
I'm really upset by (book/author/bookish-news)…
I can't wait to get a copy of…
I wish I could read ___, but…
I blogged about ____ this past week…
Welcome to July. Goodness where is the time going this year? It seems to be going by very fast!
Random Question: Do you ever get teased or looked at oddly for reading?
My recent travels made me notice a few things I have been overlooking for a long time. I love to read, I always try to bring a book with me either in my Kindle or a hard copy anytime I go somewhere. I do this with crochet as well, but let's stick to the books for the moment, lol. At home, I tend to get more judgmental looks and I have even had people call me weird for choosing to sit in a park and read for several hours. I have been teased as a bookworm both good natured and not so good natured.
However, while I was abroad, I didn't have any of those things happen. Instead, I was several times asked what I was reading and had some nice conversations about books. I noticed overall there were a lot of other people reading as well. I saw people like me reading on public transport or in parks just enjoying a nice day. I am not saying this doesn't happen in the US and I am not saying everyone in Europe reads, but there were enough moments that happened to make me take note.