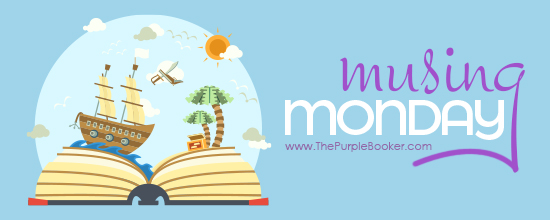 Musing Mondays is a weekly meme that asks you to choose one of the following prompts to answer:
I'm currently reading…
Up next I think I'll read…
I bought the following book(s) in the past week…
I'm super excited to tell you about (book/author/bookish-news)…
I'm really upset by (book/author/bookish-news)…
I can't wait to get a copy of…
I wish I could read ___, but…
I blogged about ____ this past week…
After a long break (since Oct '18) here comes Musing Monday. I thought that was a great way to welcome my new computer to the book family, lol. So here we are starting up Musing Monday once again. Please jump in and enjoy. I know it has been gone a while, but I personally have always loved Musing Monday. It can be like meeting with friends and chatting about books. That I something I miss personally.
This week's random question: Do you judge a book by it's cover?
We have all heard the phrase that you should not judge a book by it's cover, but how often do we actually do just that? I know the saying has gone on to mean much more then the surface meaning about books, but as readers we can look at it. I am the first one to admit if I see a cover that catches my eye I am going to be the first one to scoot over to that book and check it out over a book that has a plain cover that doesn't catch my eye. Does this sometimes bite me in the butt? It sure does. Other times it has lead me down a great rabbit hole of fun and enjoyment with some books. I have managed to read some fantastic historical fictions purely because the cover sucked me in. So, yes I admit to one and all I have and likely will continue to judge a book by it's cover. How about you?