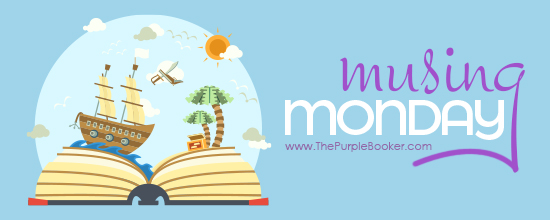 Musing Mondays is a weekly meme that asks you to choose one of the following prompts to answer:
I'm currently reading…
Up next I think I'll read…
I bought the following book(s) in the past week…
I'm super excited to tell you about (book/author/bookish-news)…
I'm really upset by (book/author/bookish-news)…
I can't wait to get a copy of…
I wish I could read ___, but…
I blogged about ____ this past week…
THIS WEEKS RANDOM QUESTION: Are there any books you really want to see made into Tv shows or movies?
As book readers we see it all the time and have probably even said it ourselves, the book was better. Then we get to enjoy the occasion when they do the book justice on screen. No matter what the screen version and book version of things are always going to be a bit different. There are also, of course way more things based on books than most people notice. I got to pondering though do any other bookers like I occasionally wish a favorite book or book series would be made into something on screen?
I would love to see the Black Dagger Brotherhood by JR ward series be made into a screen version. I am sure some of the visuals would be a little tough, but I am game to see what they could come up with! I would also love to see Stephanie Laurens Cynster series brought to the screen. Come on look at the success of Outlander and Poldark! We need the Cynster's in our lives! Finally,` I would like to see a new and better done version of The Harry Dresden series the Dresden files. I know they did one season, but it was So different from the book and they really changed to many things they don't seem to be the same source material at all.
How about you?