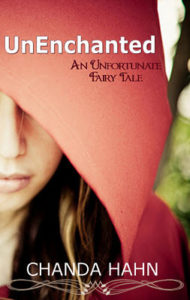 Mina Grime is unlucky, unpopular and uncoordinated; until she saves her crush's life on a field trip, changing her High School status from loser to hero overnight. But with her new found fame brings misfortune in the form of an old family curse come to light. For Mina is descended from the Brothers Grimm and has inherited all of their unfinished fairy tale business. Which includes trying to outwit a powerful Story from making her it's next fairytale victim.
To break the fairy tale curse on her family and make these deadly occurrences stop, Mina must finish the tales until the very Grimm end.
I admit I loved the show Grimm as soon as it came out. While I am behind on the seasons of the show, these days I still love the idea of there being Grimm's in the world and all the fun supernatural going on's that goes with it. So of course, when I got a chance to pick this book up as a freebie I was happy to do it. Poor Mina is just a girl who is a klutz and not very popular in school. Essentially, she just wants to get through High school, call it a day and move on with life. Then of course she ends up saving her crush's life and everything starts to change in her life.
Mina has to make her way through life while all the fairy tales we have ever heard of (and then some) essentially try to take her out. The curse of the family means they have to follow the stories, play them out use a little help from the Grimoire and make it out alive. No one in her entire family history has ever reached the end of the curse, beating all the stories so that the curse can be lifted. If that wasn't bad enough there are a great deal of other characters and bad guys who also want to take the Grimoire for their own bad reasons.
I actually really enjoyed this book. You always take a risk when you get a freebie, but the idea of this was good and I liked how the characters grew. Yes, some of the way the plot was moved along was a little bit cliche, and a few things seemed a bit slow. Overall though the book was still a fun, short read. The only reason that I am not giving this a 5 gem review, is because the editing was really really bad. I am not perfect by any means when it comes to writing reviews, but ouch. I also know not everyone can afford a professional editor (as a freelance writer, I get it really) but at the very least I feel everyone should have a couple of friends who like to read to use as Beta readers. Even something as simple as that will enable you to catch some glaring issues and make the experience of reading better once you publish. Terrible editing aside, the book was fun and good enough to get me interested in reading the next part of the series.
My Gemstone Rating: