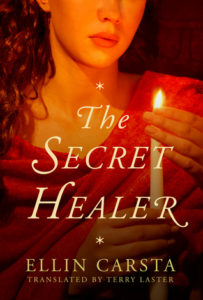 In the fourteenth century, opportunities for women are limited to the home. But spirited young Madlen finds her calling as assistant to the city's trusted midwife, Clara. Working alongside Clara, Madlen develops a surprisingly soothing technique and quickly becomes a talented healer.
After Clara's tragic death, Madlen alone rushes to assist the birth of a local nobleman's child. But rather than the joy of birth, Madlen walks into an accusation of murder and witchcraft because of her extraordinary gifts. Forced to flee her own town, she establishes a new identity in the home of her aunt. Yet even though it endangers her life, she cannot resist the urge to help the sick patients who seek out her miraculous treatment. When she meets handsome Johannes—an investigator hired by the Church to bring her to justice for sacrilegious acts—she becomes drawn to the very man who could destroy her.
Will Madlen's gifts bring about her downfall? Or can love and reason prevail in a time of fearful superstition?
I love a good historical fiction that has a healer in it. This was a fun and fast paced read. The only thing that kept it from being a full 5 gemstone rating for me was that a few of the characters could have used a little more rounding, they were a little bit flat. Overall, however, this was a great read and that flatness could just be something lost in translation.
You can't help but feel sorry for a wonderful woman like Madlen, especially as things like this did actually happen often back in these times. A woman who knew how herbal medicines worked, how to help calm people while sick and bring them through a bad fever among other things. They were the ones who could help the most and yet they were treated the worst, so many of them killed purely for having knowledge. I don't want to give too much of the story away, but Madlen certainly goes through the ringer. Each and every time that she thinks she has finally found a way she can enjoy life, be happy for a while things turn terrible for her. I know not everyone will agree with me, but I think this book is certainly worth your time to read it.
My Gemstone Rating: