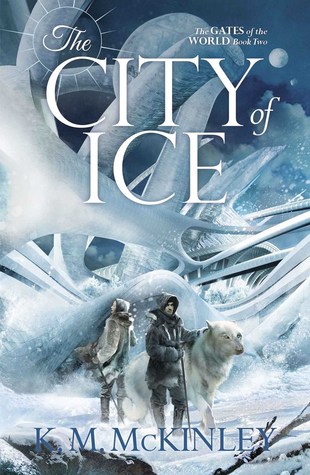 An ancient city. A wondrous invention. A perilous journey.
The epic sequel to the incredible debut novel The Iron Ship.
Deep in the polar south stands a city like no other, a city built aeons ago by a civilisation mighty and wise.
The City of Ice promises the secrets of the ancients to whomever can reach it first. It may prove too little knowledge too late, for the closest approach of the Twin in 4000 years draws near, an event that has heralded terrible destruction in past ages.
As the Kressind siblings pursue their fortunes, the world stands upon the dawn of a new era, but it may yet be consumed by a darkness from the past.
Industry and magic, gods and steampower collide in the captivating sequel to The Iron Ship.
I have to start this review by saying I have not read the first book in the series. When I saw this book on Netgalley I got so excited by the description I overlooked that it was book #2. So some of my thoughts on this book spring from that which is my own fault. Now with that said, on to the review.
This is an absorbing book that takes place in a world that is complex, rich and absorbing. It did take me a little longer to get into this book than I would have liked, but I suspect that comes from not reading the first book. I was a little confused as to everything going on in this world, but eventually I did get settled in and I enjoyed the book a great deal. I plan on going back and reading the Iron Ship and then revisiting this story so see more things in context.
This book is simply one of those kind of books that seems to sprawl out before you in one grand adventure. It is the kind of book that allows you to feel as if you are in the pages, in that world with the characters and not just an outside reader. I feel that this fantasy world ranks right up there with the likes of Middle Earth and Narnia. I couldn't personally develop any "feelings" towards the characters in this book, but I feel that might change as I delve deeper into the series. This book is simply a very enjoyable read and the land in which it takes place is so well described it feels like a place I could go to.
There is a huge cast of characters within the book and they all seem to be getting ready to have some kind of convergence when the series comes to an end. While the large cast of characters makes it interesting, I feel it is also the reason I couldn't connect with anyone. At the end of the day, this is a book worth reading and a series worth getting excited about. If you like fantasy I think you will enjoy this book, it made me want to make like Bilbo Baggins and yell that I was going on an adventure!
My Gemstone Rating: