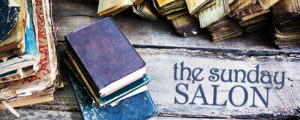 I used to take part in the Sunday salon long ago when I was new to book blogging. Alas, as things went on I very slowly started to stop doing the Sunday Salon. In fact, that last time I actually took part in this meme was 2014. As one of my goals this year is to get back into the blogging, I enjoy which of course includes my book blog so what better time than to resurrect the Sunday Salon on this New Years day. In all honesty, I have missed this meme.
I have also truly missed my wonderful book blogging. I know if you have just started reading this blog you will say, but what do you mean you have been blogging all the time lately! I can see it right here! That is of course true as in the last few weeks of December I made some big changes and got a jump start on dedicating myself to my 2017 goals. May I also say that I am SO glad we said goodbye to 2016. A dear friend of mine said that most accurate thing about 2016 that I have heard. Because there are some good things that did come in the year, but for the most part it was a year that really stunk. 2016 was like a movie where all the good things about it was in the trailer, lol. That is so very accurate I could not have said it better myself.
2017 however, has all the promise in the world to be a great year. Of course we still have many of the problems that occurred in 2016, it is not like they go away just because the calendar changes over. However, we can embrace the new year. We can do our best to think positive thoughts and we can do our best to effect change in the world and our lives.
On that note, I am going to be striving to effect change in my reading life. I did manage to complete my main challenge of 2016 from good reads and I read 50 books. I did this by the skin of my very teeth. It was very close and I do mean very, hours close! But after being so far behind for so long I did manage it. Not only that, but I managed to complete several other challenges that I had entered. I am very proud of this because I really did not think that I would manage to do it. I thought for sure that I would be behind by over 20 books as I started out. Sure, many of the last books I read were freebies, short and honestly not very good. However, they were books I picked up some time ago, they were on my TBR and I did push my way through them finally. For this simple fact I am very proud of myself. You have to enjoy the small steps along with the big ones after all.
You can check out my challenge page if you would like to see what I am going to be doing this year. I have added a new one with the YA challenge. I find I like to read YA when I am a bit over stressed. Simple, fun plots can be fantastic. I am still working on a plan for a 2018 challenge to host myself that I might start out as a half challenge this year. So you never know.
Happy 2017 everyone here is hoping this is a good one.