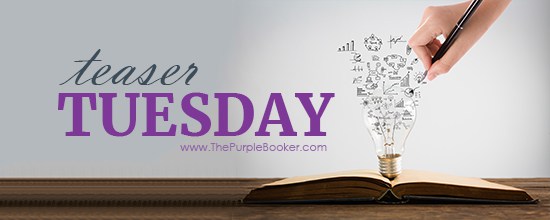 Welcome to Teaser Tuesday, the weekly Meme that wants you to add books to your TBR! You can also just share what you are currently reading. We make it very easy to play along, it is as easy as 1, 2, 3!
1: Grab your current read 2: Open to a random page
3: Share two (2) "teaser" sentences from somewhere on that page
• BE CAREFUL NOT TO INCLUDE SPOILERS! (make sure that what you share doesn't give too much away! You don't want to ruin the book for others!)
• Share the title & author, too, so that other TT participants can add the book to their TBR Lists if they like your teasers! Everyone loves Teaser Tuesday.
Happy Teaser Tuesday everyone! As always I hope I find you well this Tuesday and enjoying your reads. No new teaser from me this week. Sorry, but I will be enjoying seeing yours. Car goes in next Monday and I am happy it will be getting repaired and then right off to the oil change place it goes. Stressing me out knowing its overdue. I know it will be okay as I am very prompt with my changes usually, but oh man the stress.
This weeks Teaser..
"It was made from iron, did not have a graceful arching form like the famous stone bridges prevalent throughout Venice, and had been placed too low over the water, making it difficult for gondoliers during high tide. Around us, the canal was crowded with boats, the only method of transport in a place with no streets. I'd already decided I didn't miss them. I much preferred the sleek gondolas, with their singing boatmen, to the clatter of horse and carriage."
― Death in the floating city by Tasha Alexander