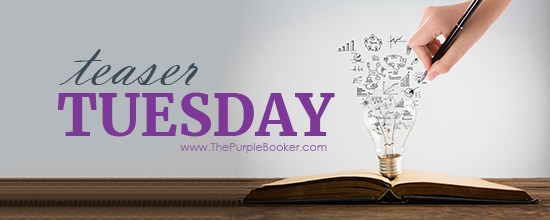 Welcome to Teaser Tuesday, the weekly Meme that wants you to add books to your TBR! You can also just share what you are currently reading. We make it very easy to play along, it is as easy as 1, 2, 3!
1: Grab your current read 2: Open to a random page
3: Share two (2) "teaser" sentences from somewhere on that page
• BE CAREFUL NOT TO INCLUDE SPOILERS! (make sure that what you share doesn't give too much away! You don't want to ruin the book for others!)
• Share the title & author, too, so that other TT participants can add the book to their TBR Lists if they like your teasers! Everyone loves Teaser Tuesday.
Happy Teaser Tuesday everyone! As always I hope I find you well this Tuesday and enjoying your reads. Cooler weather didn't last and to top it off our AC went out Saturday night. The landlord was warned some work needed to be done on the Unit, but didn't listen. Now we have been sweltering. Tech will be coming by today hopefully its a quick fix cause we have all been pretty miserable in the house. Even Diana the kitty who always perches up on things has been laid out on the tile for part of the day. It sucks. Hoping for fast fix.
This weeks Teaser..
The bounty hunter looked at him long and hard. Until Tawny Owl's smirk finally vanished. 'Indeed,' he said. 'Everyone has to make a living. Some earn money doing what they've learned. Others do what they have to. But not many craftsmen have been as lucky in life as I am: they pay me for a trade I truly and honestly enjoy. Not even whores can say that.

― Andrzej Sapkowski, Baptism of Fire