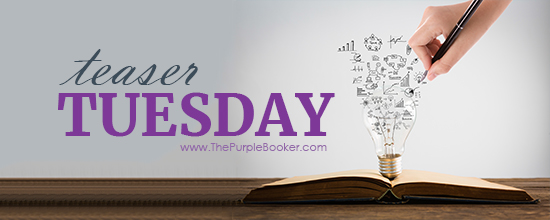 Welcome to Teaser Tuesday, the weekly Meme that wants you to add books to your TBR, or just share what you are currently reading. It is very easy to play along:
• Grab your current read</http://thepurplebooker.com/wp-admin/themes.phpem>
• Open to a random page
• Share two (2) "teaser" sentences from somewhere on that page
• BE CAREFUL NOT TO INCLUDE SPOILERS! (make sure that what you share doesn't give too much away! You don't want to ruin the book for others!)
• Share the title & author, too, so that other TT participants can add the book to their TBR Lists if they like your teasers! Everyone loves Teaser Tuesday.
i am so sorry this is up late this week everyone. I had it scheduled to go live and wordpress decided for some reason not to post it on time. I feel bad! I am glad that I double checked the blog though after packing up a wholesale stitch marker order. Whew! So apologies made here we go and it is Teaser Tuesday.
I actually just finished this book but as I was working through the night have not had a chance to start another yet so one last quote from the second book in the Saxon series.
"But deep under the earth, where the corpse serpent gnaws at the roots of Yggdrasil, the tree of life, there are three spinners. Three women who make our fate. We might believe we make choices, but in truth our lives are in the spinners' fingers. They make our lives, and destiny is everything. The Danes know that, and even the Christians know it, Wyrd biõ ful araed, we Saxons say, fate is inexorable."
― Bernard Cornwell, The Pale Horseman