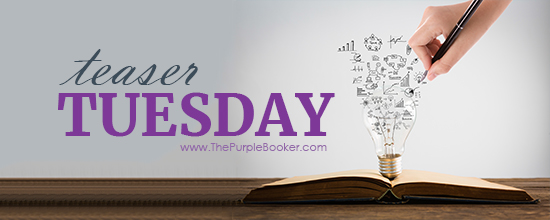 Welcome to Teaser Tuesday, the weekly Meme that wants you to add books to your TBR! You can also just share what you are currently reading. We make it very easy to play along, it is as easy as 1, 2, 3!
1: Grab your current read
2: Open to a random page
3: Share two (2) "teaser" sentences from somewhere on that page
• BE CAREFUL NOT TO INCLUDE SPOILERS! (make sure that what you share doesn't give too much away! You don't want to ruin the book for others!)
• Share the title & author, too, so that other TT participants can add the book to their TBR Lists if they like your teasers! Everyone loves Teaser Tuesday.
Ambrosia's little note:
Welcome to Tuesday again. You may be looking around and noticing a bit of a change to the theme here. I am still doing some tweaks and adding bits back in but for the most part, Welcome to the new look of The Purple Booker. I hope you like it, I felt it was a bit cleaner and more modern to go this route. I still have a few little tricks up my sleeve though. I had hoped to have everything done by today but there have been a few delays.
On with the teaser show though! This week I am reading/listening to the audio of Forrest Gump. I didn't know this was a book back when the movie came out *face palm*, but I am glad to be getting around to it now.
Go on then Ambrosia we want the teaser!
"I don't know if mama was right, that we each have a destiny, or if it was Lt Dan, that we are all just floating around, accidental, like on a breeze, but I think… I think… maybe… it's both happening at the same time." – Forrest Gump (Forrest Gump, #1)
by Winston Groom