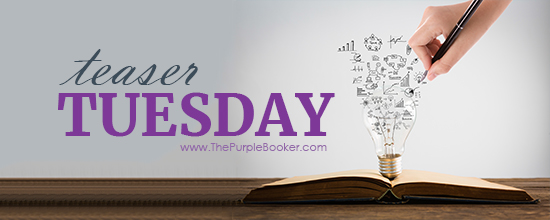 Welcome to Teaser Tuesday, the weekly Meme that wants you to add books to your TBR! You can also just share what you are currently reading. We make it very easy to play along, it is as easy as 1, 2, 3!
1: Grab your current read
2: Open to a random page
3: Share two (2) "teaser" sentences from somewhere on that page
• BE CAREFUL NOT TO INCLUDE SPOILERS! (make sure that what you share doesn't give too much away! You don't want to ruin the book for others!)
• Share the title & author, too, so that other TT participants can add the book to their TBR Lists if they like your teasers! Everyone loves Teaser Tuesday.
Happy Teaser Tuesday everyone! I hope everyone had a good week last week. Mine was pretty good. I got a lot done. I have been slowly but surely feeling better with my firbo. With that said I need to remember not to over do it just because I feel better, otherwise I end up feeling not great again. Yay life with fibro. I cooked a lot last week which made the roomie do a dance. I am so happy to have an intsant pot and an air fryer.
"No. But then the American Government–whatever branch–has never really grasped the concept of tribal identity."
―
Micah