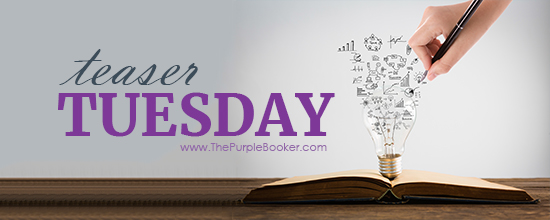 Welcome to Teaser Tuesday, the weekly Meme that wants you to add books to your TBR! You can also just share what you are currently reading. We make it very easy to play along, it is as easy as 1, 2, 3!
1: Grab your current read
2: Open to a random page
3: Share two (2) "teaser" sentences from somewhere on that page
• BE CAREFUL NOT TO INCLUDE SPOILERS! (make sure that what you share doesn't give too much away! You don't want to ruin the book for others!)
• Share the title & author, too, so that other TT participants can add the book to their TBR Lists if they like your teasers! Everyone loves Teaser Tuesday.
Happy Teaser Tuesday everyone! I truly hope that all of you are doing well right now. That you are healthy and have everything that you need. It is a little scary with how people are panicking and hoarding supplies, when we really all need to be sticking together and helping one another out. At least us readers will never get bored during this time of isolation, right? My big problem is that I simply cannot choose what I want to read next. I have been trying and trying,and I just have so many options.
So I decided this week I would make things a little different on my end. I am going to share 3 teasers. Two from books I haven't read yet that are on my shelves and one from a book I have indeed read, but with a new book in the series dropping later this year (I am so excited by the way) so I am considering reading/audio booking the series again. Then if you would so kind as to drop your vote on what I should read with your teaser that would help me a great deal.So now without further ado,the teasers.
"Paranoid? Probably. But just because you're paranoid doesn't mean there isn't an invisible demon about to eat your face." ~ ,Storm Front (Dresden Files Book #1) by Jim Butcher

"Accidental sex. He made it sound like I fell down, and there just happened to be an erection in the way." ~ Incubus Dreams (Anita Blake, Vampire Hunter #12) by Laurell K. Hamilton

"… Turn over that stone" – she pointed to a flint nearby – "and you will find a charlatan who will dazzle you with the favorable conjunction of Mercury and Venus, flatter your future, and sell you colored water for a gold piece. I can't be bothered with it. From me you get the actuality." ~ Mistress of the art of Death (Book #1) by Ariana Franklin