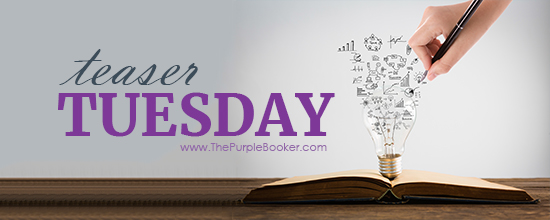 Welcome to Teaser Tuesday, the weekly Meme that wants you to add books to your TBR! You can also just share what you are currently reading. We make it very easy to play along, it is as easy as 1, 2, 3!
1: Grab your current read
2: Open to a random page
3: Share two (2) "teaser" sentences from somewhere on that page
• BE CAREFUL NOT TO INCLUDE SPOILERS! (make sure that what you share doesn't give too much away! You don't want to ruin the book for others!)
• Share the title & author, too, so that other TT participants can add the book to their TBR Lists if they like your teasers! Everyone loves Teaser Tuesday.
Happy Teaser Tuesday everyone! Last week ended up being a sad one here in Purple Booker Land. Our sweet Sassy very suddenly crossed the rainbow bridge. It was out of nowhere, but we are taking solace in the fact that it was quick and painless. Doesn't help as much as we wish it would though. Her brother McCoy is taking it pretty hard,so he is getting a lot of extra attention. Sorry for my little note being such a bummer today, but at the moment my head is stuck in bummer land. Maybe the teaser can offer a bit of a pick me up…..
"That's why people loved stories so, I realized in that instant, because they found in them what was missing from their own lives, the things they knew, no matter how much or how hard they might hope and dream and scheme, they would never have." ~ The Queens Pleasure by Brandy Purdy