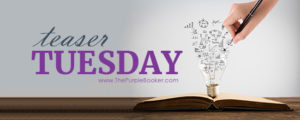 Welcome to Teaser Tuesday, the weekly Meme that wants you to add books to your TBR! You can also just share what you are currently reading. We make it very easy to play along, it is as easy as 1, 2, 3!
1: Grab your current read
2: Open to a random page
3: Share two (2) "teaser" sentences from somewhere on that page
• BE CAREFUL NOT TO INCLUDE SPOILERS! (make sure that what you share doesn't give too much away! You don't want to ruin the book for others!)
• Share the title & author, too, so that other TT participants can add the book to their TBR Lists if they like your teasers! Everyone loves Teaser Tuesday.
Happy Teaser Tuesday everyone! As always I hope I find you well this Tuesday and enjoying your reads! Happy first day of March. Of course I am not feeling super happy right now, but with what's going on in the world I am sure I am not the only one. I stand with Ukraine. They are showing themselves to be amazing and strong people. Their President is also reminding the world what a true Leader is. I hope this conflict ends soon.
This weeks Teaser..
"Somewhere in the center of my soul, a rusty chain began to unwind. It freed itself, link by link, from where it had rested, unobserved, waiting for him. My hands, which had been balled up and pressed against his chest, unfurled with it. The chain continued to drop, to an unfathomable depth where there was nothing but darkness and Matthew. At last it snapped to its full length, anchoring me to a vampire. Despite the manuscript, despite the fact that my hands contained enough voltage to run a microwave, and despite the photograph, as long as I was connected to him, I was safe."

― Deborah Harkness, A Discovery of Witches