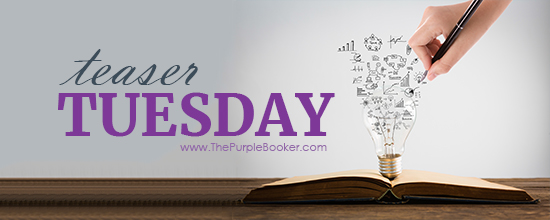 Welcome to Teaser Tuesday, the weekly Meme that wants you to add books to your TBR! You can also just share what you are currently reading. We make it very easy to play along, it is as easy as 1, 2, 3!
1: Grab your current read
2: Open to a random page
3: Share two (2) "teaser" sentences from somewhere on that page
• BE CAREFUL NOT TO INCLUDE SPOILERS! (make sure that what you share doesn't give too much away! You don't want to ruin the book for others!)
• Share the title & author, too, so that other TT participants can add the book to their TBR Lists if they like your teasers! Everyone loves Teaser Tuesday.
Happy Teaser Tuesday everyone! As always I hope I find you well this Tuesday and enjoying your reads! I am very sorry I missed the last two weeks. Things got really hectic and I honestly just forgot. I have barely had time to make sure to feed myself let alone anything else. So sorry about that. But I am hoping to settle a bit more this month. I am still being slow because so busy on the read, but I am trying lol.
This weeks Teaser..
"After lingering for longer then was necessary, the ticket collector wandered off, reassuring Alba that he would return at the end of the line to help her down. Once he had gone she gazed out the window.

She thought of Fitz she blushed as she remembered his kiss. The intimacy of it."
― Santa Montefiore, Last Voyage of the Valentina