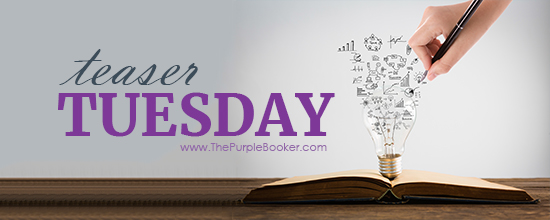 Welcome to Teaser Tuesday, the weekly Meme that wants you to add books to your TBR, or just share what you are currently reading. It is very easy to play along:
• Grab your current read
• Open to a random page
• Share two (2) "teaser" sentences from somewhere on that page
• BE CAREFUL NOT TO INCLUDE SPOILERS! (make sure that what you share doesn't give too much away! You don't want to ruin the book for others!)
• Share the title & author, too, so that other TT participants can add the book to their TBR Lists if they like your teasers! Everyone loves Teaser Tuesday.
The holiday buzz is all around lately! This time of year is always a whirlwind for me. I feel like it has been nothing but work work work for a while now. I am looking forward to my short get away over Christmas time. I am hoping to use that period of time to do some organzing, catch up on the book reviews for this blog (I have been so so very behind) and making a schedule to keep to for posting on my other blogs as well. I miss blogging, but I won't go into that to deeply at the moment. It is Teaser Tuesday! I have finished my book challenge for the year, but I am still reading as I have time to.
I have posted a few teasers from the two books I still have on my nightstand as my current reads, so this week I have decided to pull a teaser from my TBR for you, so it is a different book.
"The chowdry, or burqa — the Saudi, North African, and Central Asian version of the head, face, and body shroud — is a sensory deprivation isolation chamber. It is claustrophobic, may lead to anxiety and depression, and reinforces a woman's already low self-esteem. It may also lead to vitamin D deficiency diseases such as osteoporosis and heart disease. Sensory deprivation officially constitutes torture and is practiced as such in the world's prisons." An American Bride in Kabul by Phyllis Chesler