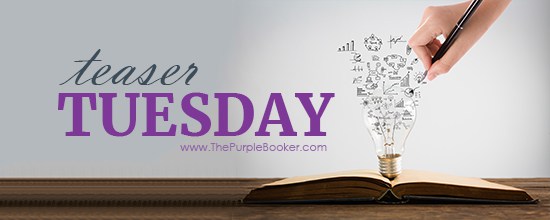 Welcome to Teaser Tuesday, the weekly Meme that wants you to add books to your TBR! You can also just share what you are currently reading. We make it very easy to play along, it is as easy as 1, 2, 3!
1: Grab your current read 2: Open to a random page
3: Share two (2) "teaser" sentences from somewhere on that page
• BE CAREFUL NOT TO INCLUDE SPOILERS! (make sure that what you share doesn't give too much away! You don't want to ruin the book for others!)
• Share the title & author, too, so that other TT participants can add the book to their TBR Lists if they like your teasers! Everyone loves Teaser Tuesday.
Happy Teaser Tuesday everyone! As always I hope I find you well this Tuesday and enjoying your reads. I am on a house sit with one of my favorite puppy clients. I miss my babies, but I am doing my last overnight so I will see them soon. Luther is such a sweet pup. Also more then a little happy with the outcome of the Governor race here in my state. Yay! So here we go..
This weeks Teaser..
"The dead are notoriously unreliable when it comes to standards of behavior," I said. "Particularly murder victims. They have no sense of decorum at all."

"Change did not always lead to improvements, sometimes only to change." ~ Behind the Shattered Glass by Tasha Alexander