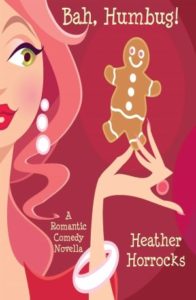 Lexi Anderson is an up-and-coming, Martha Stewart-type TV hostess whose two kids love the Jared Strong adventure novels, which happen to be written by their new neighbor, Kyle Miller.
For the first time in his writing career, Kyle has writer's block – until he sees the snowman on his lawn and realizes this is the perfect place for his villain to hide the weapon. He digs into the snowman to discover two things: the weapon fits int he body just under the head, and the snowman was supposed to be the back drop for Lexi's next show.
From this improbable beginning comes friendship. Can there be more for a woman who is afraid to get close again and a man who has shadows from his childhood?
Families join together and hearts are healed as this couple goes walking in a winter wonderland.
I do not usually get into Christmas or Holiday books in general, but this year I was making an effort to be a little bit more Holiday feeling and I had Bah humbug on my TBR so why not? The editing work on this book was not done very well and in all honesty, I am getting a little tired of so many books with typos and issues. I know small indie authors do not make huge sums, but I feel if you are going to publish a book you should proof read very well! Ask a friend! No ones perfect I know that, I know I am not perfect when I post my reviews but GAH! Okay little rant over and moving on.
This book is a fast cute little read overall and it was a fairly quick one as well. Lexi Anderson our female character reminded me a lot of Brie from Desperate Housewives and I am not sure if that is a good thing or a bad thing. The best way she thinks to get new neighbor and author to get over being a Christmas Grinch is to essentially present to him Christmas on steroids. That may not work in the real world with most people (would not work on me!) but who knows in books things happen. I don't want to give away the plot, of course, but what would Chic lit/Romance be without a little bit of rivalry in it as well right? Enter Author Kyle's brother. Of course he shows up as Kyle is falling in love with Lexi.
The long and short of this review (many pardon's if I am a little jumpy with this, post holiday cold requires lots of nyquil!) is that while it isn't a particularly deep book it is fun. If you want something easy, cute and fitting for the holidays next time they come around you would probably be happy by picking up this little Novella.
My Gemstone Rating: