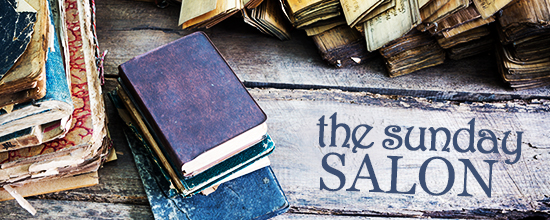 Another Sunday is here, and for me it is a lazy Sunday. Means my to do list is only one page instead of like 5. Anyways, afraid I do not have much in the way of bookish news to say this week. It has been a tough week for a lot of reasons and I did not get much reading done.
The biggest reason it was a tough week for me is that this week on April 21st 2017 marked the one year anniversary of Prince's death. It is still a large open wound for me. I find myself want to cry when I think about the loss, the world as a whole has lost so very much in that soul. The world is a little darker thanks to it, and the other loses we all suffered in 2017. At least we know one day we will all sing together again. No matter what your belief is I think we all get a happy place. My happiest place will certainly involve the likes of Prince.
Another reason it has been a tough week is that my sweet fuzzball Kirk has not been feeling well. I think he just has a touch of a spring cold but given what a tough year it has been already I can't help but feel all of my mom alarms going off at once. I have lit a candle, watched him eat and drink and rubbed his tummy. All things he was happy with.. he drew the line when I started trying to make him stay where I wanted him. Fair enough I know I was being a bit of a suffocating Mom. The vet took my call as well and said it sounds like he's just a little stuffed up and he should be okay but to bring him in if I feel the need or anything gets worse. I steamed him a bit in the bathroom which did seem to help a bit, even if it did make his hair frizz. So I am trying to quite my frayed nerves.
I have also been having some major stomach trouble especially the last two days, but I am just going to leave it at that. You guy's don't want TMI info there. But it has made me a little grumpy to say the least.
On the bright side I have been able to channel my worry and frustrations into something good. I have been playing with and making several kinds of slime this week. I only recently was shown that apparently slime is a HUGE thing right now, like seriously HUGE one account I follow on Instagram has 361K in followers. I honestly had no idea. I have been making slime since I was a kid, though we called it GAK haha. It was one of the first major science things I did and have off and on made some to play with ever since. Now I see there is a whole new vocab and things to do with it and its been fun and interesting really to read up on it. So I channeled some of the bad vibes into making and playing with some Slime and have come up with a few really nice ones that have been nice stress relief for me.
I have also managed to get some expected packages in that I needed for a cosplay costume. Also sent out my first large wholesale order and it arrived safe and sound as well. So all in all while the week has been tough and I have not been able to read much, I have managed to find a bright spot or two within it.
Here is hoping for a better week ahead in the new one. How did your Sunday and week in general go?