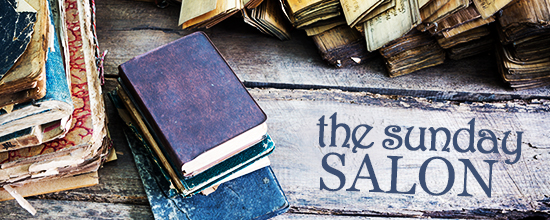 Sunday again already, the first Sunday of March at that. Is it just me or does the year seem to be flying by already? I have not gotten as much reading as I wanted to do this week, my brain has been a little bit "squirrel" feeling this last week, but I am learning to not be so hard on myself for the weeks like that. What I did read quite a bit of this week was preparations to make sure I am caught up on my Read it first personal challenge. There are so many good movies coming out in the future or that have recently come out based on books. TV is starting to get a little bit more into that as well. Two examples that are coming up this year are the Hulu original series The Handmaids tale and the ABC series Time after Time.
I am a little conflicted over The handmaids tale, I know for many it is a classic and one that they really enjoyed, but for me the book has always just been a little bit, meh. Among just my friends on Goodreads I know I am in the minority as most of my friends gave it a much better rating than I did. Yes, I only gave it 1 gem/star if anyone remembers my review of it. If not here is the link and you can see it for yourself, at least there is a Doctor who reference in my review right? I want to give the show a chance though and I am sitting here laughing at myself and asking why? I clearly did not like the book. Well the short and simple answer is because I wanted to like the book and sometimes I am actually upset at myself for not liking the book. There is so much there that in general I like, but I guess it is one of those things that for me it never came together. I am going to give the show a chance though, I really hope I like it better than the book. Stranger things have happened, right? I mean I liked True Blood as a whole much better than I liked The Southern Vampire mysteries (lets not go down that rabbit hole with how much I hated the "last" installment).
Time after Time however, oh boy it has all of the elements to be fantastic. You have a great plot, fun history to work with and a little eye candy never hurts right? This is not the first adaptation of the book by Karl Alexander of course, there was the movie with the same name done in 1979 (same year as the book and funny enough the movie screenplay was written up before the book was finished) which was touted as being filmed in Panavision ooo! In a world of reboots (I am not a fan of all of them trust me. Footloose not cool and now Dirty Dancing SERIOUSLY?) I feel this is one that actually is worth visiting again and playing around with more.
Despite my slow reading progress this week I am actually slowly starting to feel like I am getting my book mojo back, which I take as a good sign overall. I went on a spree this morning of adding a whole slew of Historical fictions that I have missed over the last few years to my want to read list. I had to say sorry to my Facebook friends since my Goodreads activity posts there, LOL. Reading mojo may be waking up like a slow bear after hibernation, but I am so happy to see it again. I find that it also makes me want to get back to writing for myself, instead of just doing it for freelance work. There is the inspired feeling of wanting to sink my teeth into writing something historical, maybe even an alternative history. Beyond that, I have a feeling that I am going to end up feeling very inspired to make creations for my shop once I dig into a bunch of books again. I often get teased by loved ones who say I could find inspiration is a puddle, but seriously as stimulating as movies and TV shows can be for creativity (I want to make ALL the things from Outlander and the Tudors? So many pretty things!) I find books are fantastic for that as well, mostly because you can completely build the vision yourself. You get the context and of course the description from the writer, but it is your mind that can see it come to life without someone else putting their stamp on it, beyond the writer of course.
So I hope that everyone is having a wonderful Sunday and that the week you have coming ahead is enjoyable as well. I'll be back for Musing Monday for now it's time to go poke around my kindle a bit and line up a short list TBR for the upcoming weeks.