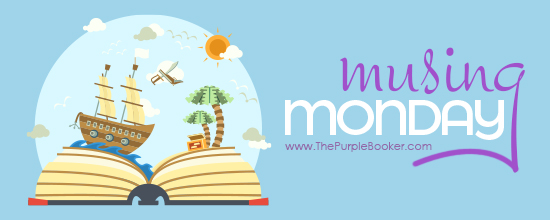 Musing Mondays is a weekly meme that asks you to choose one of the following prompts to answer:
I'm currently reading…
Up next I think I'll read…
I bought the following book(s) in the past week…
I'm super excited to tell you about (book/author/bookish-news)…
I'm really upset by (book/author/bookish-news)…
I can't wait to get a copy of…
I wish I could read ___, but…
I blogged about ____ this past week…
Random Question: If you could change one thing about the way book readers can be viewed by society in general, what would it be?
I feel like I am letting the musings get a little deep the last few weeks, but I am playing around a bit to see what kind of musings everyone prefers. It seems like this meme is dying a bit and I feel bad about it, like I am letting the OG musing Monday down. I'll keep on trying though.
If I could change one thing about how society currently looks at readers honestly, it would be that it is seen as a bit odd to regularly read these days. Once upon a time reading was the normal way of things. It makes me sad when people are surprised to find out I read regularly, it isn't the blog part that seems to be a surprise these days but the actual reading. The amount of people I hear say, "Oh, I haven't read a book since high school" just makes me sad. Reading to me is like breathing and it is so enriching, I feel sad that so many people are missing out on that.