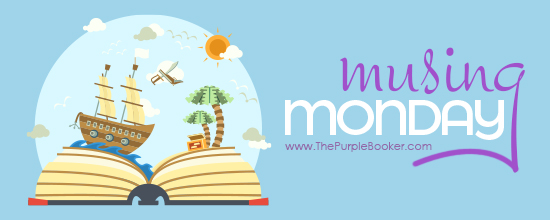 Musing Mondays is a weekly meme that asks you to choose one of the following prompts to answer:
I'm currently reading…
Up next I think I'll read…
I bought the following book(s) in the past week…
I'm super excited to tell you about (book/author/bookish-news)…
I'm really upset by (book/author/bookish-news)…
I can't wait to get a copy of…
I wish I could read ___, but…
I blogged about ____ this past week…
THIS WEEKS RANDOM QUESTION: Do you like to read when you are feeling under the weather?
When it rains, it seems to pour does it not? I won't lament too much here and bore you, but I was under the weather this last week. Not a great way to spend ones birthday. However, it did get me thinking of this week's muse. I know when I am sick as much as I would like to read, it seems to be a little bit too much work. My brain would prefer to veg out and binge watch something. I know others like to curl up in bed with their favorite book. So what do you prefer to do when you are feeling sick?