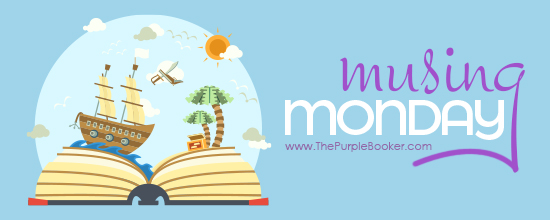 Musing Mondays is a weekly meme that asks you to choose one of the following prompts to answer:
I'm currently reading…
Up next I think I'll read…
I bought the following book(s) in the past week…
I'm super excited to tell you about (book/author/bookish-news)…
I'm really upset by (book/author/bookish-news)…
I can't wait to get a copy of…
I wish I could read ___, but…
I blogged about ____ this past week…
THIS WEEKS RANDOM QUESTION:What was your favorite picture book as a kid?
I went with a fun and easy one this week after my slightly heavy Sunday Salon, that and I am always trying to think of kids books to add to collections. My favorite book with pictures is a toss up. I LOVED Hop on Pop it was probably my all time favorite for YEARS. My Dad used to read it to me all the time. Also I had the Golden book of 365 stories It had pictures in it but it was more story focused. Either way this was another one my Dad or Mom would read to me. One story each night before bed, that one is still a favorite as well. Good memories.