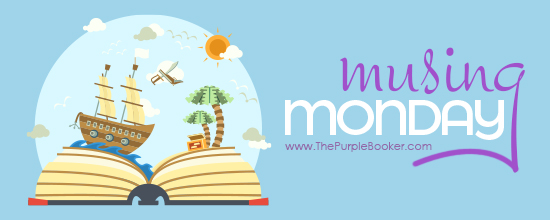 Musing Mondays is a weekly meme that asks you to choose one of the following prompts to answer:
I'm currently reading…
Up next I think I'll read…
I bought the following book(s) in the past week…
I'm super excited to tell you about (book/author/bookish-news)…
I'm really upset by (book/author/bookish-news)…
I can't wait to get a copy of…
I wish I could read ___, but…
I blogged about ____ this past week…
THIS WEEKS RANDOM QUESTION: What is your preferred reading format?
I am fairly sure that this has been asked before but it is on my mind today so it seemed to be all I could come up with, blame my one track mind perhaps. When the Kindle first came out on the market I admit I dug my heels in and I refused to get one. I wanted to stick with my hard copy books and only my hard copy books. I love the smell of books, the feel of them in your hands as you read. I still do tend to prefer the hard copy, but I am of course as seen by my whine about my broken kindle not so hard nosed about it anymore. The kindle has it's place, it is more environmentally friendly of course, fantastic for vacation because you can have as many books as you want in the palm of your hand and for me of course there is the fact that I can have text to speech going while I am working on a crochet project. Of course it is hard to overlook all the fantastic deals that you can often find on kindle books. I think I will always prefer hard copy books as a matter of the memories they can bring forward and you can't beat that great smell, but I do enjoy my kindle as well. So which do you prefer?