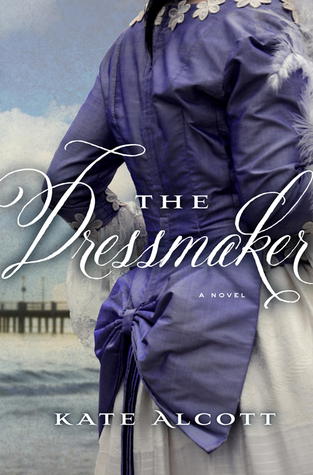 Just in time for the centennial anniversary of the sinking of the Titanic comes a vivid, romantic, and relentlessly compelling historical novel about a spirited young woman who survives the disaster only to find herself embroiled in the media frenzy left in the wake of the tragedy.
Tess, an aspiring seamstress, thinks she's had an incredibly lucky break when she is hired by famous designer Lady Lucile Duff Gordon to be a personal maid on the Titanic's doomed voyage. Once on board, Tess catches the eye of two men, one a roughly-hewn but kind sailor and the other an enigmatic Chicago millionaire. But on the fourth night, disaster strikes.
Amidst the chaos and desperate urging of two very different suitors, Tess is one of the last people allowed on a lifeboat. Tess's sailor also manages to survive unharmed, witness to Lady Duff Gordon's questionable actions during the tragedy. Others—including the gallant Midwestern tycoon—are not so lucky.
On dry land, rumors about the survivors begin to circulate, and Lady Duff Gordon quickly becomes the subject of media scorn and later, the hearings on the Titanic. Set against a historical tragedy but told from a completely fresh angle, The Dressmaker is an atmospheric delight filled with all the period's glitz and glamour, all the raw feelings of a national tragedy and all the contradictory emotions of young love
My Thoughts:
Once upon a time, there as a girl from Minnesota who loved costumes and the Titanic. That girl spent a lot of time at the Titanic exhibit when it came through town, so when she saw this book about fashions, dress making and a trip on the Titanic she just had to read it. Okay, yeah obviously that girl is me. This book delivered on most of what I was hoping for in terms of beauty and life. It explores the class system of the time and has a splash of love in it as well. I had a few problems here and there, which is why the 4 stars but it was nothing that really took me out of the story.
The Duff Gordons, oh man don't even get me started on them. Though since they were real and the events that surrounded them also happened, I felt that they were portrayed well. From what I have read in my history research, they really were not the greatest people. The media might have been a bit to harsh on them though, its hard to say since we don't fully know what happened.
Now Tess, I felt for her from the first moment. She was trapped in a bad situation and wants nothing more then to escape. Luckily she does, but of course things don't go as planned. She does get a taste of the g9od life, a peek into the other world she wants to be part of on the Titanic before the ship goes down. We then follow her in New York, following her hard work and what she makes with the second chance she has been given.
I don't want to give away to many plot points, but trust me this is on to read. Tess really does grow and blossom as you go through her life. Nothing is straight forward in her life, but she really does try her best with everything.