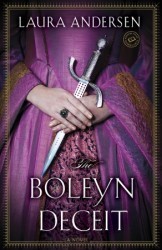 Perfect for fans of Philippa Gregory, Alison Weir, and Showtime's The Tudors, The Boleyn Deceit is the captivating new novel set in the imagined Tudor court of King Henry IX. Son of Henry VIII and Anne Boleyn, who must navigate a terrain rife with palace intrigue, impending war, and unbridled passions.
The regency period is over and William Tudor, now King Henry IX, sits alone on the throne. But England must still contend with those who doubt his legitimacy, both in faraway lands and within his own family. To diffuse tensions and appease the Catholics, William is betrothed to a young princess from France, but still he has eyes for only his childhood friend Minuette, and court tongues are wagging.
Even more scandalous—and dangerous, if discovered—is that Minuette's heart and soul belong to Dominic, William's best friend and trusted advisor. Minuette must walk a delicate balance between her two suitors. Unable to confide in anyone, not even her friend Elizabeth, William's sister, who must contend with her own cleaved heart. In this irresistible tale, the secrets that everyone keeps are enough to change the course of an empire.
My Thoughts:
I read the first book in this series back in 2017 and totally spaced doing a review of it *face palms*, but I was not going to let that happen in this case. Might even go back and read the first one again so I can fully review it, (it was a 5 star read for me). Anyways, I digress back to this book. I still absolutely love that this is an alternative history where Anne not only birthed a son for Henry, but didn't die for any other reason. This book for me was not as good as the first book, but it was still an overall solid read.
So my biggest issue with this second chapter in this series is the love triangle. I am not a huge fan of love triangles to start with, but in book one it carried well. In this book however, it becomes cumbersome and just feels kind of like a yoke we have to carry around as the reader. Towards the end of the book it seems the yoke is taken off and more attention is paid to the triangle, but by that point I was honestly a bit annoyed by the whole thing. Honestly, I was annoyed by other things in the book as well, but this is my biggest issue with it.
So what else?
With that being said, I think the premise of the series, is still interesting. King William is a strong character. He is a lot like his Father however, which could end up a little boring if not careful. A dash of Henry VIII is good, but a exact copy not so much. Other characters come through strong in this book and one I found myself really enjoying is Amy Dudley. I know she is often treated like the harpy who wouldn't let Elizabeth I have what she wanted. However, that isn't the case here. She is very likeable at this point she is witty and fairly strong. I hope that sticks for the third book.
So, final verdict this book was not my favorite. This book for me was not as good as the first book, but it was still an overall a good enough read. I am not sure when I will read the next book honestly. Since this one didn't hype me up for the next, but  I will read it. If you like alternative history and Tudor era, this is worth the read.