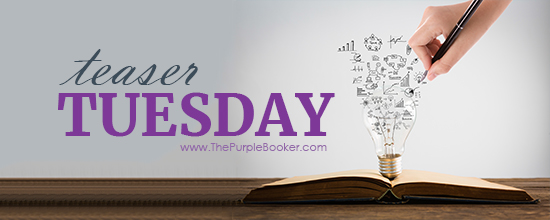 1: Grab your current read
2: Open to a random page
3: Share two (2) "teaser" sentences from somewhere on that page
• BE CAREFUL NOT TO INCLUDE SPOILERS! (make sure that what you share doesn't give too much away! You don't want to ruin the book for others!)
• Share the title & author, too, so that other TT participants can add the book to their TBR Lists if they like your teasers! Everyone loves Teaser Tuesday.
Happy Teaser Tuesday everyone! As always I hope I find you well this Tuesday and enjoying your reads! So glad to be in my own home for a few nights. Holiday weekend coming up is going to keep me busy doing drop in's all week though and another house sitting stint on Thursday. I am still fostering too, so keeping me go go going. Yet I am so glad to be busy because this time last year I could barely move because of my fibro. The busy making is helping me save for a nice new laptop, and lots of other stuff too, so. Woot Woot.
Anyways, onto this week's Teaser: Went back to this one after setting it aside for a bit. Glad I did.
"This delighted Salim beyond further questioning, and the Sultan watched with troubled eyes as he ran off, no doubt to repeat it all to the Bedu boy. He had his doubts about their intimacy–not for its nature, but because he was not yet certain that the boy was trustworthy. " ~ Sand Daughter by Sarah Bryant