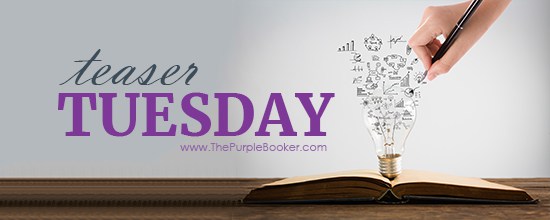 Welcome to Teaser Tuesday, the weekly Meme that wants you to add books to your TBR! You can also just share what you are currently reading. We make it very easy to play along, it is as easy as 1, 2, 3!
1: Grab your current read 2: Open to a random page
3: Share two (2) "teaser" sentences from somewhere on that page
• BE CAREFUL NOT TO INCLUDE SPOILERS! (make sure that what you share doesn't give too much away! You don't want to ruin the book for others!)
• Share the title & author, too, so that other TT participants can add the book to their TBR Lists if they like your teasers! Everyone loves Teaser Tuesday.
Happy Teaser Tuesday everyone! As always I hope I find you well this Tuesday and enjoying your reads. This last week was a long one. We all have weeks like that I am sure. As much as I enjoy my puppy client Abuela, I am looking forward to sleeping in my own bed tonight, with my babies. Several of the kitties are of course holding a grudge but I expect them to come round by bedtime.
This weeks Teaser..
"Nikolai had been told that hope was dangerous, had been warned of it many times. But he'd never believed that. Hope was the wind that came from nowhere to fill your sails and carry you home."
― Leigh Bardugo, King of Scars